Heraeus Labofuge 400R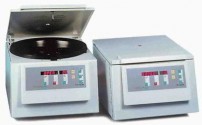 Description:
Heraeus Labofuge 400R Refrigerated Centrifuge:
Ideal for routine separations applications, these centrifuges feature brushless induction drive motor technology for reliability and smooth, quiet operation. An air cooling system helps to ensure that runs never exceed 58dB of noise. The refrigerated Labofuge 400R uses an environmentally-friendly CFC-refrigerant. Centrifuges accommodate horizontal swing-bucket microtube and microplate rotors, interchangeably. Centrifuges also feature a microprocessor controller and LED displays which indicate speed, RCF, and run time, as well as temperature for model 400R.
Labofuge 400 Labofuge 400R Capacity: 4 x 180 mL 4 x 180 mL Operating Temperature: Ambient 0 to 40 degrees C Timer: 1-99 min. or hold 1-99 min. or hold
Dimensions: 31H x 43.6W x 57D cm 34H x 62.5W x 60D cm (12 x 17 x 22″) (13 x 25 x 231/2″) Weight without Rotor: 40 kg (88 lbs.) 74 kg (163 lbs.) Electrical: 110/120V, 60Hz, 250W 120V, 60Hz, 700
The Centrifuge is in excellent working condition.
Clean and Tested
Rotor & 2 Buckets
Smooth and Quiet Operation
Price: Call for price