Prexion 3d Eclipse 3-in-1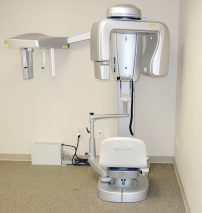 The PreXion 3D Eclipse CBCT,  3-in-1 is a multi-modality scanner designed for dental professionals who perform implant procedures, as well as use 3D imaging for diagnosis in general dentistry, periodontics, orthodontics, oral-maxillofacial surgery, and endodontics. With the industry's smallest 0.2mm focal spot, the Eclipse delivers diagnostically clear 3D images, yet provides the flexibility of a dedicated 2D panoramic or 3D ceph modes. This small footprint 3D CBCT scanner reconstructs images to industry-standard DICOM format for compatibility with a variety of 3rd party surgical implant planning software package
PreXion3D Eclipse has enhanced general versatility and its superb image quality derived from the original PreXion3D Elite to benefit you and your patients. PreXion has 15+ years of experience in the medical/dental area and has now introduced the Eclipse
Compact Design
Size: 46" x 62" x 76"
Fits in almost any location previously occupied by panoramic x-ray system.
High Speed Scan Capability
Scanning Time:
Standard mode:9 sec
High Resolution mode:17 sec
Wide mode:18 sec
Offer reduced dose for increased patient protection while
maintaining high Image quality
Ultra high speed signal processing is attained by the XTrillion board owing to its capability for high-speed image reconstruction. High-speed processing of high images from CT, ultrasound and various other medical systems is achieved with the engine designed specifically for the reconstruction of large amounts of signal data.
Feature of PreXion3D Viewer
After a short processing time, images are displayed in real-time Volume Rendering mode.
VolumePro rendering technology is provided from TeraReco, Inc. which PreXion spun off. It offers real-time 3D Volume rendering with unsurpassed image quality for integration into medical, seismic, scientific, and other high performance imaging systems. Axial, Coronal, Sagittal and 3D Images are automatically rendered. This is one of many reasons why PreXion3D is very User-friendly and can be operated even the panoramic view is generated automatically.
PreXion3D Elite's image transfer technology enables you to quickly, easily access anytime from anywhere. 3 D Images in the server can be quickly shared with client PCs anywhere on the network and without having to download patient datasets to each computer. Secure DICOM Server for automated archiving of CT scan data. (DICOM 3.0 support)