Kodak Directview CR 800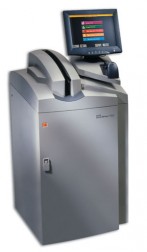 Descripción:
The CR 800 processes cassettes quickly and has an intuitive user interface.
Process up to 62 cassettes an hour.
Cassette is ready to reuse in less than 39 segundos.
Review an image in under 33 seconds at a Kodak DirectView remote operations panel.
Forward directly to multiple DICOM destinations such as a laser imager, diagnostic workstation, or archive without review if desired.
Print the first image on film in less than 106 seconds using a Kodak DryView 8900 impresora láser.
Bar Code Scanner
Hasta 24 profiles
15″ touch screen
528 lb / Libra (239.4 kg)
Dimensiones: H 59.5 en. (151.1 cm), En 25 en. (63.5 cm) D 29 en. (73.6 cm)
Precio: Llamar.