Hologic Discovery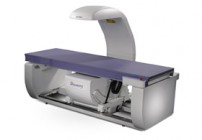 Description:
The Hologic Discovery, QDR Bone Densitometer with proven clinical value of bone mineral density (BMD) measurement Express BMD, the most rapid means of acquiring accurate BMD results. Express BMD powered by our exclusive OnePass fan-beam technology improves the accuracy, speed and convenience of assessing osteoporosis.
Radiological Vertebral Assessment

Forearm, Dual Hip

10 Second Femur

10 Second Lumbar

IVA

Linear X-Ray Fan Beam Utilizing Motorized Table and C-Arm

Computer Worktable with PC, Monitor

Printer

CD-RW Drive

Network Ready
Price: Call or email for price.