GE Lunar Prodigy (6ft)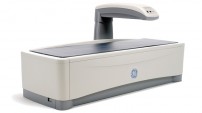 Description:
The Lunar Prodigy by GE was the first bone densitometer that was designed to look beyond the bone mineral density. This machines technology has the ability to detect subtle bone changes. It also delivers fast scans and has some exceptional capabilities that cover a wide range of clinical applications. The GE Lunar Prodigy uses a unique software program called enCORE that optimizes productivity. This program uses automation breakthroughs to save time and produce consistent results for your patients.
The GE Lunar Prodigy has a narrow-angle fan beam system that makes multiple passes across the patient to obtain multiple images with each of the images overlapping the previous one. The narrow angle of the fan beam system reduces the distortion that is due to magnification. This machine also uses the Multi-View image reconstruction that allows for an accurate diagnosis.
Narrow angle fan beam system
Utilizes direct-digital detector technology
Multi-View image reconstruction
Advanced hip analysis
A shorter densitometer version of the two Lunar Prodigy. Around 6 feet long.
Price: Call or email for price.