GE LOGIQ P9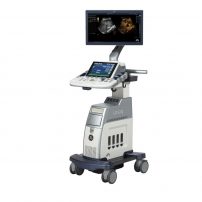 GE Logiq P9 Features
The GE Logiq P9 is a highly capable ultrasound system that provides excellent image quality and productivity through easy to use tools across a wide range of applications. The Logiq P9 has an imaging engine that delivers crisp images in a mobile and ergonomically designed console.
10.4" Touch Panel
21.5" Monitor
Wireless LAN
CrossXBeam Compound Imaging
SRIHD Speckle Reduction Imaging
Coded Harmonic Imaging
Auto Image Optimization
Auto IMT
AutoEF
Needle Visualization
B-Flow™
3D/4D Obstetric Imaging
Elastography
Stress Echo
TVI/TVD Tissue Velocity and Tissue Doppler Imaging
Virtual Convex for linear and sector probes
Measure Assistant
GE Logiq P9 Specifications
General
21.5″ widescreen LCD with high-resolution
Advanced user interface with high-resolution 10.4″ wide LCD touchscreen
Automatic Optimization
CrossXBeamTM compounding
Speckle Reduction Imaging (SRI-HD)
Fine Angle Steering
Coded Harmonic Imaging
Virtual Convex
Patient Information Database
Image Archive on integrated CD /DVD and hard drive
Raw Data Analysis
Real-time automatic Doppler calculations
OB Calculations
Fetal Trending
Ergonomic full-size keyboard
Swivel-adjustable
Height-adjustable
Digital TGC and Digital A/N keyboard
3 active probe ports
Integrated HDD and DVD±R/W
On board storage for BW printer
Integrated speakers
Probe holders
Front handle
HDMI Out
Ethernet Network (RJ45)
S-Video Out
Composite Video Out
USB (2x in front, 3x in rear, 2x monitor)
AC Power Input Operating Modes: B-Mode
Coded Harmonic Imaging
M-Mode, Color Flow Mode (CFM)
Power Doppler Imaging (PDI)
PW Doppler with High PRF
M-Color Flow Mode
Anatomical M-Mode
Curved Anatomical M-Mode
Applications: Abdominal, Obstetrical, Gynecological, Breast, Small Parts and Superficial, Musculoskeletal, Endocavitary (Transvaginal, Transrectal), Vascular, Urological, Pediatric & Neonatal, Intraoperative, Cardiac, Transcranial.
Probes
8C-RS Convex used tested
E8C-RS Endocavity used/tested
Printer: Sony up-897 b/w