Fuji DRYPIX 7000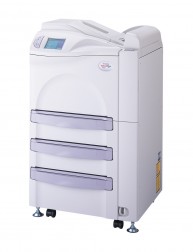 Description:
The Fuji DRYPIX 7000 prints digital image data transferred via the DICOM network from the FCR Image Reader or CT, MRI, and other imaging machines.
Film can be handled under light
Utilizes blue-base film (DI-HL), clear-base film (DI-HLc), or blue-base film for mammography use (DI-ML).
203 kg
Mammographic applicability: optional
Trays available : 3 installed
Dimensions: W73.5 x D68 x H124 cm
Price: Call or email for price.